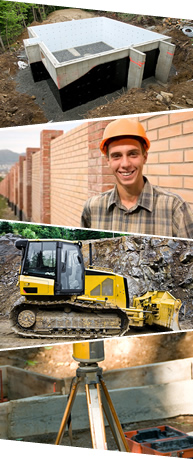 • Featured Contractors •
Mission Fence & Patio Builders - Office & Yard in Rosemead, CA
F W Koch Construction in Escondido, CA
Green's Fencing Inc in Steelville, MO
Gary Crawford Backhoe Service Inc in Iowa Park, TX
Monroe Lloyd W in Franklin, IN
Eltex General Store in Elgin, TX
Houston Consulting in Southampton, NY
Hamp's Excavating in Martinez, CA
Carefree Plastic Fence & Dckng in Dallas, TX
Mills Fence CO Inc in Dayton, OH
Pleasant Valley Excavation Inc in Camarillo, CA
Able Fence in Hialeah, FL
Golden Wheat Ridge Fence in Wheat Ridge, CO
Ed's Security Fencing in Mineola, TX
English Arbor Landscape in Thousand Oaks, CA
From Our Blog:


Choosing Between Wood Or Aluminum Fencing

After you have lived in your house for four, five or even a few years more, and plan on staying there for many more years, then it might be time to invest in some house foundations projects. These projects have a little more meat to them than just cosmetics. The first couple of years you are in a... Continue Reading
TNT Backhoe Service
1703 N Roselawn Avenue
Artesia, NM
88210




(575) 746-6063

Reviews

By Gary Smith from Artesia, NM
Posted Aug 22, 2016

I have been working for TNT Backhoe Service. These people are good to work for. This guy named John that wrote a review on TNT Backhoe Service is on drugs or etc. Mr. and Mrs. Martin are very good people to work for and they have a relative that is linked to this message. He is very jealous of his sister being so successful in the working industry. I've talked to other oilfield contractors and showed them the blog and sure enough this name keep coming up. As long as I work here, this guy will never be for rehire. Do not crumb a company until you look at your own track record.

By Eric M from Artesia, NM
Posted Jul 18, 2016

First of all, I read the blog on TNT Backhoe Service. It sure is funny that the blog by John dated May 18, 2015 had no initial to the last name. I've worked for TNT Backhoe Service and they are a great company. Ray Martin the owner is a very good man and so is his wife Karen. They are about their employee's. The blog written by supposedly John sounds like a retarded and mental case of a jealously family member that never made it to the top. If he was smart enough he would of known that Karen Mermis Martin is Karen's facebook name. This person needs to get a life and grow up. Karen don't take offense to any of this. This retard would of not worked for you as long as he claims if you were so bad. Hey retard family member quit using different names and get a life. A thrid grader can write a better letter in pronunciation than you. Go back to school and get a life and quit running these people down becasue you are a loser. Ray and Karen you are awesome. RIP Fred. But you had a retard that is very jealous of you daughter making something of herself and a great man that stands behind her business ethics.

By Karen Martin from Artesia, NM
Posted Jul 18, 2016

First of all, the name John never worked for this company in 2015 and as for Fred Mermis, he was sick in bed that year and never owned a computer to complete a review on this company. So now I have your email and don't be so stupid that the email's are registered out of the area. Get a life. You are very jealous that you are a loser.

By John from Artesia, NM
Posted May 18, 2015

Worst company I ever work for, Ray is a good man and on the other hand his wife Karen Mermis Martin is a manipulator and will throw her own husband underneath the bus to get what she wants. Ray is just a puppet out there. I have been shorten from my payroll and are so call foreman Tee would just tell us that Karen the boss and Ray has no saying for that reason I will keep it short. No communication there boys have no respect been fired at least half dozen times. Karen will talk and looks at Ray to agree like a lost puppy. I was employed there for 2 and half years and I seen about 40 good people come threw there door and leave because of lies from Karen Martin. She will lie to the public about you and gossip about you and your family. It is a very unstable company to work for and I would not recommend anybody to go threw what I did and my fellow workers. The company should of been name Gossip and Drama of the Southeast. Before applying look at there history threw nmdepartmentoflabor.com that's all I have to say beware.

By Fred Mermis from Artesia, NM
Posted Dec 29, 2010

TNT Backhoe Service is a wonderful place to work and I feel this company is honest and very experience in their field.
Share Your Review
Please note: all reviews are screened for spam and take 24-48 hours to be approved.