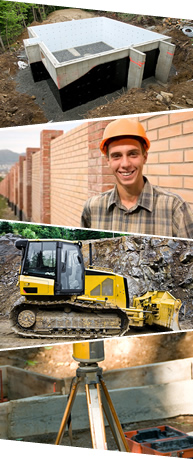 Local Yard / Exterior Contractor Services
Beautiful landscapes and well kept yards don't just happen on their own. In many cases, they're kept in pristine condition by land and yard contract professionals. These professionals have similar jobs to landscapers in the sense that they make the land beautiful. The difference is that land and yard contract professionals focus on not only make the land look gorgeous and stay healthy but also come on a regular basis as per their contract.
Contract professionals are hired to maintain the yard and keep it in it's best condition. This not only includes services such as cutting the grass but also includes using pesticides and organic growth supplements that give the grass the nutrients it needs to grow thick and lush. Depending on the needs of the customer and the specific needs of the yard, land and yard contract professionals will maintain the grass as often as either requested or required.
Some land and yard contract professionals may also do garden work including trimming hedges, watering flowers, and cutting off dead limbs from trees. This is not generally included in the work that contract professionals do but may be offered by companies that also specialize in landscaping.
Welcome New Companies:



Vinyl Industries



Why has Vinyl Industries been a leading Utah Fence company for the last 17 years? We are the only locally owned and operated vinyl Utah fence company...



Lehi, UT
Latest Reviews:



J R Excavating Inc in Sonoma, CA
from Jon H
Very well done and thanks for the extra you spent with me for no charge. Jon H....Details
From Our Blog:
Downspout and Gutter Maintenance
The biggest enemy your house has it water. There might be a few other hazards that it will face in its lifetime, but water can do more damage than anything else and quickly. Whether it is from a flood on the outside, a backed up drain or a faulty sump pump on the inside, you want to prevent water from getting in your house in every way possible. If you have never been a homeowner before, how do... Continue Reading
Welcome new companies!
Canine Perimeters in Willis, TX
Tony Jones Excavating in Yellville, AR
Pro-Tec Fence in Fort Worth, TX
Neal Van Houten Shop in Clarence, MO
Penn Fencing in Butler, PA
Ed's Backhoe Service in Garden City, TX
Sprenkle Dozing in Stark City, MO
Brymer's Backhoe & Dozer in Anchor Point, AK
Advantage Fencing LLC in Nampa, ID
Walker Fencing in Farmersville, TX
Construction Rental Svc-Gray in Fresno, CA
David Perry's Dozer Work in Bennington, OK
Southern Vinyl Fencing & Dckng in Aberdeen, NC
National Rent-A-Fence in Oxford, CT
Buzz County Wide Fence in San Antonio, TX