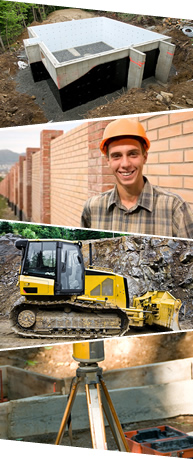 Local Yard / Exterior Contractor Services
Beautiful landscapes and well kept yards don't just happen on their own. In many cases, they're kept in pristine condition by land and yard contract professionals. These professionals have similar jobs to landscapers in the sense that they make the land beautiful. The difference is that land and yard contract professionals focus on not only make the land look gorgeous and stay healthy but also come on a regular basis as per their contract.
Contract professionals are hired to maintain the yard and keep it in it's best condition. This not only includes services such as cutting the grass but also includes using pesticides and organic growth supplements that give the grass the nutrients it needs to grow thick and lush. Depending on the needs of the customer and the specific needs of the yard, land and yard contract professionals will maintain the grass as often as either requested or required.
Some land and yard contract professionals may also do garden work including trimming hedges, watering flowers, and cutting off dead limbs from trees. This is not generally included in the work that contract professionals do but may be offered by companies that also specialize in landscaping.
Welcome New Companies:



NFL CONSTRUCTION LLC



We specialize in year round outdoor construction. We are experts with custom wood, composite decks, and cedar. Our specialties are fencing, gazebos, p...



Portland, OR
Latest Reviews:



Jim Kovalak Excavating Inc in Willis, MI
from Debra Paul
It was the Saturday before Easter when we discovered we needed our septic tank fixed. I was having seven families over the next day and was not able...Details
From Our Blog:
How To Improve The Curb Appeal Of Your Home
When you are working on house foundations as a way to improve the overall look of your house, you have a lot of options. Those options can be in the higher price range or they could be in the lower price range. The projects could also be small and not take up very much time or they could be involved and require a few days to complete. No matter how many or how few projects you decide to take on,... Continue Reading
Welcome new companies!
T D'S Construction in Lexington, OK
J Williams Backhoe in Chico, CA
Kirby Fence in Arlington, TX
B & M Plumbing in Savoy, TX
Pacific Industrial & Construction CO in Newbury Park, CA
All Mark Fence in North Ridgeville, OH
DURA Fence Corporation in Grass Valley, CA
Earl Le Dozer Service in Sapulpa, OK
Progressive Fence in Athens, GA
Waner Elden Dozer Service in Mulhall, OK
Majestic Transport Services in Oviedo, FL
Reeves Backhoe Service in Mannford, OK
Spellman Backhoe Service in Bouton, IA
Middlesex Trenching CO in Metuchen, NJ
K BR General Contracting in Merrimack, NH