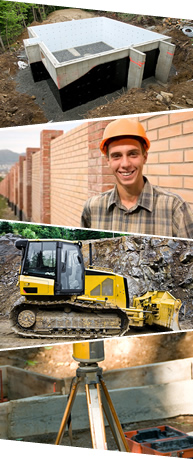 Local Yard / Exterior Contractor Services
Beautiful landscapes and well kept yards don't just happen on their own. In many cases, they're kept in pristine condition by land and yard contract professionals. These professionals have similar jobs to landscapers in the sense that they make the land beautiful. The difference is that land and yard contract professionals focus on not only make the land look gorgeous and stay healthy but also come on a regular basis as per their contract.
Contract professionals are hired to maintain the yard and keep it in it's best condition. This not only includes services such as cutting the grass but also includes using pesticides and organic growth supplements that give the grass the nutrients it needs to grow thick and lush. Depending on the needs of the customer and the specific needs of the yard, land and yard contract professionals will maintain the grass as often as either requested or required.
Some land and yard contract professionals may also do garden work including trimming hedges, watering flowers, and cutting off dead limbs from trees. This is not generally included in the work that contract professionals do but may be offered by companies that also specialize in landscaping.
Welcome New Companies:



Land Scrapes LLC



Land Scrapes offers excavating, earth moving, tree clearing, and dirt work services. We also offer snow plowing and clearing services....



Drumright, OK
Latest Reviews:



Don Wilson's Backhoe Service in Cushing, OK
from heath
Don Wilsons Backhoe service done a great job. He was fast and friendly and the job was done right the first time. I recommend him to anyone that ne...Details
From Our Blog:
Installing a Fence Around Your Home
One of the biggest projects you can do to improve your house foundations outside is to install a fence. A fence can beautify a yard when it is done right. It can also be functional to keep in pets, children and to keep out unwanted guests. The installation of the fence can be done with a little sweat and muscle by yourself or you could choose to hire someone else to do the project. No matter what... Continue Reading
Welcome new companies!
Hot Springs Fence LLC in Hot Springs, MT
Steves Backhoe Service in Deputy, IN
Fence Center in Bladensburg, MD
H L Hoyack in Caldwell, TX
David Frane Bulldozing in Athens, WI
Decking of Ohio LLC in Norwalk, OH
Concrete Systems in Houston, TX
Howard Fencing in Rancho Cordova, CA
Coastal Carolina Fence Company in Murrells Inlt, SC
Morrilton Fence CO in Conway, AR
Raymond's Backhoe Service in Dallas, TX
Bo's Metal Works & Fence in Searcy, AR
Harmony Automatic Gates in Gilmer, TX
Performance Backhoe in San Leandro, CA
Northern California Fence in Paradise, CA