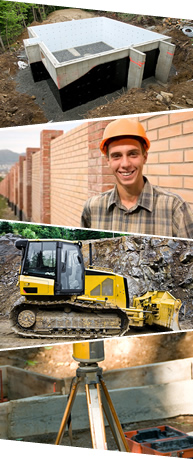 Local Yard / Exterior Contractor Services
Beautiful landscapes and well kept yards don't just happen on their own. In many cases, they're kept in pristine condition by land and yard contract professionals. These professionals have similar jobs to landscapers in the sense that they make the land beautiful. The difference is that land and yard contract professionals focus on not only make the land look gorgeous and stay healthy but also come on a regular basis as per their contract.
Contract professionals are hired to maintain the yard and keep it in it's best condition. This not only includes services such as cutting the grass but also includes using pesticides and organic growth supplements that give the grass the nutrients it needs to grow thick and lush. Depending on the needs of the customer and the specific needs of the yard, land and yard contract professionals will maintain the grass as often as either requested or required.
Some land and yard contract professionals may also do garden work including trimming hedges, watering flowers, and cutting off dead limbs from trees. This is not generally included in the work that contract professionals do but may be offered by companies that also specialize in landscaping.
Welcome New Companies:



Elite Dozer Service



Specializing in Land Clearing, Pond Excavating, Silt Removal. Fence Line Clearing, fence Building....



Hawley, Tx
Latest Reviews:



Carpenter Fence Inc in Longmont, CO
from JM C.
They listended to what I wanted, took the time to look at my back yard and make suggestions for a better, more cost effective solution. Fence was ins...Details
From Our Blog:
Building and Maintaining a Deck
A deck can be a wonderful place for you and your family to gather outside during the summer months. Decks provide homeowners with comfortable outdoor living spaces that can be customized to fit each homeowner's specific needs. Many consumers have decks with patio tables and chairs, fire pits, benches, flowerboxes and planters, and many other features. A high quality deck can drastically... Continue Reading
Welcome new companies!
Circle A Fence in Livingston, TX
W & W Fence CO in Social Circle, GA
Kirby Enterprises Inc in Olney, TX
Larry Floyd's Backhoe Service in Whiteville, NC
Finyl Home Products in Utica, MI
Apex Fence & Iron Works in Lawrence, KS
Tate Larry Backhoe Grading & Trucking in Castroville, CA
Artistic Fence & Gate CO in Santa Ana, CA
Boones Excavating in Port Angeles, WA
Harold Woods Dozer Service in Coalgate, OK
EIS in Rushville, OH
American Backhoe in Placentia, CA
Walnut Grove Fence & Decks in Jefferson City, MO
Bachmann Rich H in Warren, OH
Pet Shops in Cape Coral, FL