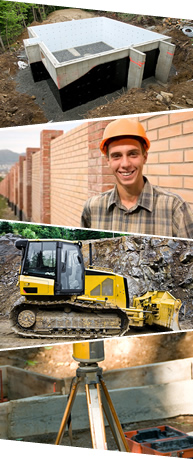 Local Yard / Exterior Contractor Services
Beautiful landscapes and well kept yards don't just happen on their own. In many cases, they're kept in pristine condition by land and yard contract professionals. These professionals have similar jobs to landscapers in the sense that they make the land beautiful. The difference is that land and yard contract professionals focus on not only make the land look gorgeous and stay healthy but also come on a regular basis as per their contract.
Contract professionals are hired to maintain the yard and keep it in it's best condition. This not only includes services such as cutting the grass but also includes using pesticides and organic growth supplements that give the grass the nutrients it needs to grow thick and lush. Depending on the needs of the customer and the specific needs of the yard, land and yard contract professionals will maintain the grass as often as either requested or required.
Some land and yard contract professionals may also do garden work including trimming hedges, watering flowers, and cutting off dead limbs from trees. This is not generally included in the work that contract professionals do but may be offered by companies that also specialize in landscaping.
Welcome New Companies:



Wyman's Fencing



Locally owned small business. Our goal is to provide quality workmanship and products to the loal community. We build and repair custom wood fences an...



Hubert, NC
Latest Reviews:



Woods Tree & Lawn Service in Toledo, OH
from Tim
Did a great job at my church taking down 9 trees so I had them take down 13 at my house. Two of these had to be craned over my house. They cleaned u...Details
From Our Blog:
Downspout and Gutter Maintenance
The biggest enemy your house has it water. There might be a few other hazards that it will face in its lifetime, but water can do more damage than anything else and quickly. Whether it is from a flood on the outside, a backed up drain or a faulty sump pump on the inside, you want to prevent water from getting in your house in every way possible. If you have never been a homeowner before, how do... Continue Reading
Welcome new companies!
Nobbe Excavating Inc in Greensburg, IN
Keehn Landscape Contractors in Hackensack, NJ
Quality Care Tree & Dozer Service in Waco, TX
Hallets Backhoe Service Inc in Paso Robles, CA
Young Backhoe & Trenching Inc in Seneca, KS
Robert Mueller Backhoe in Yorba Linda, CA
McDougals Backhoe Service LLC in Bryant, WI
Landmark Excavating & Dozer in Nordland, WA
Hi-Tech Fence CO in Marshallville, GA
Lavalley's Backhoe LLC in Renton, WA
T & T Fence Services in Taneytown, MD
H & R Fence in Lakeport, CA
Arnold's Fence CO in Phoenix, AZ
Allen Tomasini Backhoe Service in Santa Ynez, CA
Star Fence CO in Dearborn Heights, MI