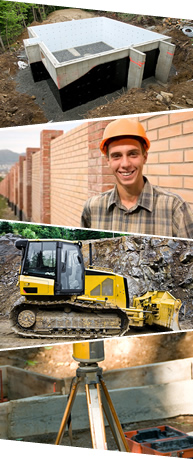 Local Yard / Exterior Contractor Services
Beautiful landscapes and well kept yards don't just happen on their own. In many cases, they're kept in pristine condition by land and yard contract professionals. These professionals have similar jobs to landscapers in the sense that they make the land beautiful. The difference is that land and yard contract professionals focus on not only make the land look gorgeous and stay healthy but also come on a regular basis as per their contract.
Contract professionals are hired to maintain the yard and keep it in it's best condition. This not only includes services such as cutting the grass but also includes using pesticides and organic growth supplements that give the grass the nutrients it needs to grow thick and lush. Depending on the needs of the customer and the specific needs of the yard, land and yard contract professionals will maintain the grass as often as either requested or required.
Some land and yard contract professionals may also do garden work including trimming hedges, watering flowers, and cutting off dead limbs from trees. This is not generally included in the work that contract professionals do but may be offered by companies that also specialize in landscaping.
Welcome New Companies:



Sussex Fence Co.



Custom Installations of all PVC, Vinyl, Chain Link, Ornamental Aluminum, Hand Forged Wrought Iron Fencing, Custom Gates, Gate Operating systems, and a...



Millsboro, DE
Latest Reviews:



Tafolla Fence CO in San Antonio, TX
from lYNNE R
I LIVED IN LOS ANGELES BEFORE. i HAVE USED TAFOLLA FENCE TWICE IN SANTX TO HELP REPAIR MY FENCE AFTER A STORM THE OWNER IS GREAT HE INSTANTLY REPAI...Details
From Our Blog:
How To Fertilize Your Lawn
A well-maintained and expertly cared for lawn can improve the curb appeal of your house and make your outdoor living area much more beautiful. Often, the entire image of a house can be destroyed by an ugly, sparse, or scorched lawn or yard. A house, on the other hand, with a bright green and lush yard will attract positive attention. A lawn can also be a place of sanctuary and retreat. When... Continue Reading
Welcome new companies!
Dogwatch of Southeast Wisconsin Inc in Waukesha, WI
A & A Life Saver Pool Fence CO in Cocoa Beach, FL
C & C Excavating Backhoe Service in Vallejo, CA
Abbott Brothers Inc in York, ME
Advanced Fence Products in Salt Lake City, UT
Empire Painting in Sacramento, CA
Crist Fencing LLC in Dodgeville, WI
Kruger Fencing in Santa Ana, CA
Channel Fence CO in Channelview, TX
A Mokros Backhoe Service Inc in Lambertville, NJ
Wheatley Brothers Shop in Washington, GA
Ambient Fence CO in Hawkinsville, GA
Pratt Oil Field Service in Pratt, KS
Ahlbergs Fence Company in Gerber, CA
Borg Redwood Fences in Pleasanton, CA