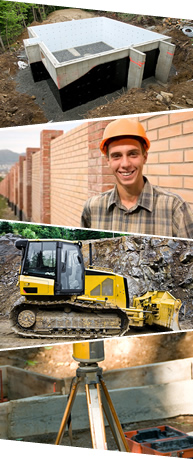 Local Yard / Exterior Contractor Services
Beautiful landscapes and well kept yards don't just happen on their own. In many cases, they're kept in pristine condition by land and yard contract professionals. These professionals have similar jobs to landscapers in the sense that they make the land beautiful. The difference is that land and yard contract professionals focus on not only make the land look gorgeous and stay healthy but also come on a regular basis as per their contract.
Contract professionals are hired to maintain the yard and keep it in it's best condition. This not only includes services such as cutting the grass but also includes using pesticides and organic growth supplements that give the grass the nutrients it needs to grow thick and lush. Depending on the needs of the customer and the specific needs of the yard, land and yard contract professionals will maintain the grass as often as either requested or required.
Some land and yard contract professionals may also do garden work including trimming hedges, watering flowers, and cutting off dead limbs from trees. This is not generally included in the work that contract professionals do but may be offered by companies that also specialize in landscaping.
Welcome New Companies:



RJA Dozer Service LLC



Excavating Contractors - Dodge City Kansas Excavating Contractors | Heavy Construction | Earthwork | Civil Contracting | Dozer | Oilfield Work | CAT |...



Dodge City, KS
Latest Reviews:



Don Wilson's Backhoe Service in Cushing, OK
from heath
Don Wilsons Backhoe service done a great job. He was fast and friendly and the job was done right the first time. I recommend him to anyone that ne...Details
From Our Blog:
How To Fertilize Your Lawn
A well-maintained and expertly cared for lawn can improve the curb appeal of your house and make your outdoor living area much more beautiful. Often, the entire image of a house can be destroyed by an ugly, sparse, or scorched lawn or yard. A house, on the other hand, with a bright green and lush yard will attract positive attention. A lawn can also be a place of sanctuary and retreat. When... Continue Reading
Welcome new companies!
C E Holmes Construction in South Berwick, ME
Law Fence CO in Colorado Springs, CO
S & S Backhoe in Riverside, CA
Willette Wally Backhoe in Lake Elsinore, CA
Dirty Work Contractor in Lizella, GA
Barry's Trucking in Ellsworth, ME
Railing CO in Miami, FL
Wilson & Sons Construction in Eagle Lake, MN
David R Long Backhoe Service in Ozark, MO
L & M Rental Fence - License Pending in Rio Linda, CA
Charles Huggins Construction in Shirley, AR
Cherokee Fence Company in La Porte, TX
Alvarez Fencing & Gardening in Hercules, CA
Life Saver Pool Fence of SD in Costa Mesa, CA
Ramco Inc in Boise, ID